Welcome to the European Society for Biomaterials
A year-long 'virtual environment' where scientists, clinicians, industrials and regulatory affairs experts can network.
International visibility
A great place to share
Networking Opportunities
The place to meet your peers
Biomaterials Science Journal
Discount access to Biomaterials Science Journal (incl. APC)
YSF support
YSF support to young scientists community
Welcome to the European Society for Biomaterials
A year-long 'virtual environment' where scientists, clinicians, industrials and regulatory affairs experts can network.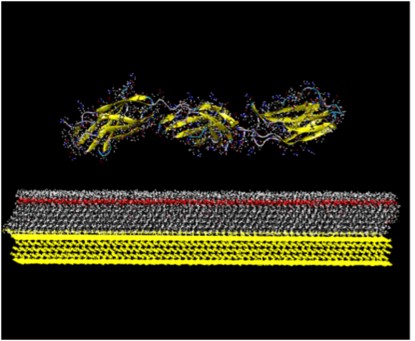 Application Scientific Image Competition
First and Last Name: Viswanath Vittaladevaram Student/PhD/Postdoc: PhD Researcher Institute: University of Galway Department: Biological & Chemical Sciences Group leader: David Cheung lood-Brain Barrier: Gateway to the mysteries Viswanath Vittaladevaram, PhD Researcher at the Biological & Chemical Sciences Department at the University of Galway (group leader: David Cheung), send us a picture of the "Blood-Brain Barrier: Gateway to the mysteries": "Due to the complexity of investigating the blood-brain barrier in vivo, it is desirable to create synthetic models of it. Such models will enable the study of disorders of the central nervous system, for example allowing for the study of transport of drugs or other molecules through this and how disruption to this can affect its function. Using molecular simulation, the adsorption of single proteins is investigated, focusing on changes to protein conformation and exposure of binding sites.Model blood-brain barriers can also be used for investigation of drug uptake and screening of candidate drug molecules.
ESB Member Highlight
In this section you will see a different ESB member each time the page is loaded
Biography
Prof. Dr. Sandra Van Vlierberghe holds a guest professorship at Vrije Universiteit Brussel (VUB) and a (research) professorship (100% BOF-ZAP) at Ghent University (Polymer Chemistry & Biomaterials Group, Belgium). She graduated as a Master in Chemistry with high distinction with majors in Polymer Chemistry in 2003 and received her PhD in Sciences in 2008, both at Ghent University. She authored >195 Web of Science Core Collection cited papers, she has a h-index of 40 (WoS), is promoter of 20 PhD students (in addition to 12 defended PhDs) and she edited three books, authored 7 chapters in books of which 5 invited. She is treasurer of the Belgian Polymer Group (BPG), secretary of BSTE, steering committee member of GATE, former spokesperson of the 'Young Scientist Forum (YSF)', TERMIS-EU council member, ESB council member and former member of the independent ESB Awards Committee. She serves on the editorial board of several journals focussing on polymer-based biomaterials. In 2017, she received the Jean Leray award from the European Society for Biomaterials. She is also very active in research valorization as reflected by ongoing spin-off project GelGraft Medical which is focussing on the translation of an injectable biomaterial for breast reconstruction from in vivo animal testing towards first in-human trials. She is co-founder and scientific advisor of spin-off BIO INX (https://bioinx.com/) commercializing inks for 3D-printing and biofabrication purposes.
Expertise
Her research targets to establish at UGent, "a polymer-based technological platform covering processing and functionalization aspects sufficiently versatile to potentially address a wide range of tissue engineering (TE) challenges by exploiting the unique properties of light." Indeed, her research focusses on the development of photo-crosslinkable (bio)polymers and their processing capabilities using 3D printing techniques, which seamlessly fits the scope of the current proposal.
Publications
https://orcid.org/0000-0001-7688-1682