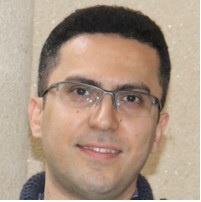 Associate Professor Dr.
Nader NEZAFATI
Biomaterials group, Nanotechnology and Advanced Materials, Materials and Energy Research Center, Karaj, Iran
Biography
I am an Associate Professor of biomedical engineering at Materials and Energy Research Center (MERC) (from 2018- present). I received the position of Assistant professor in 2013. I graduated and completed my Ph.D. thesis from Amirkabir University of Technology (Tehran, Iran) (2012). I am the author or co-author of more than 40 scientific ISI papers (Scopus h-index: 22). I have done more than 5 research projects. The courses I have taught are: Characterization of Biomaterials, Application of polymers in biomedical engineering, Application of ceramics in biomedical engineering, Application of composites in biomedical engineering. I have supervised more than 20 M. Sc. and PhD. students. I am the Editorial Board member in Journal of "Current Materials Science" (Scopus-index). I have reviewed many research articles which have been submitted for ISI journals (Elsevier publisher). My research focuse is on synthesis and characterization of calcium phosphate-based nanocomposites, bioactive glass and hybrid scaffolds as biomaterials for hard tissue engineering application. The other research interests are as follows: Antibacterial Materials (self-cleaning materials), Bioactive glass, Biocomposite Fabrication, Bone and Dental cements, Drug Delivery systems, Scaffold Fabrication (for Tissue Engineering).
Expertise
• Tissue Engineering in Bone repair • Tissue Engineering in Cartilage repair • Bioactive glass in Biomedical Engineering • Dental cements • Drug Delivery Systems in Biomedical Engineering
Publication(s)
https://www.researchgate.net/profile/Nader_Nezafati2 https://www.scopus.com/authid/detail.uri?authorId=23974757000 https://orcid.org/0000-0002-2072-5012